iOS 14.5 update
IOS useful update most likely to be released in next week , present iPhones are  running with IOS 14 update but next week it can be updated in to IOS 14.5 which is confirmed in apples recent event that new products are ready for out let in to market and also has depends on IOS 14.5 update .
Apple said to their users to update iPhone software . So, iphone users gets latest features by updating software of their respective Apple mobiles, it also implementing new app tracking transparency requirements in to their mobile apps.
After updating to IOS 14.5 users get lot of important features like unlocking iPhone by apple smart watch , expand Siri voice and support for Air Tag trackers. The apple founders are looking to release for IOS 14.5 with all different features which are useful for iPhone users .
iOS 14.5 release date
You can able to download IOS 14.5 from browser for some time now usage purpose , with beta 8 currently available but Apple founders are suggesting a specific date to release full version may be coming very soon, Apple hasn't set a formal launch date for IOS 14.5, but it likely to be released by June 7.
iOS 14.5 beta 8
Apple now released beta 8 version of  IOS 14.5 with this release beta 6 & 7 are behind so, apple wants to release full version of 14.5 as soon as possible , in beta 6 of  IOS 14.5 introduced a battery health recalibration tool , it helps you to get more battery life of your iPhone . Here we have all the features of  IOS 14.5 & why you should consider beta versions .
iOS 14.5 public beta download information
First you have to open up any browser on your iPhone and search for IOS 14.5 public beta version , its ask you to sign up on Apple Beta Software Program page to try out IOS 14.5 public beta, by the way its better you to wait as the full version may coming by end of  the month.
Unlock iOS 14.5 Phone with Apple Watch
Apple has also developed a  feature in IOS 14.5 so, that you can unlock your iPhone with the help of  your apple watch. Now a days all are wearing mask due to covid-19 pandemic the face masks cover your faces and face ID sensors are not able to find who are you and have to enter manually to unlock your iPhone .
You need to have iOS 14.5 & watch OS 7.4 then you can open settings of face ID and passcode according to your wish, but remember the passcode to unlock apple watch to operate App store and it also requires your face ID or passcode .
Apps improvement in iOS 14.5
Apples iOS 14.5 controls all other installed apps in iPhone which users are experiencing several changes in everything from podcasts to remainders .
The podcast apps are highlighted, iOS 14.5 introduce a redesign show page for easy play back with control over episodes you download.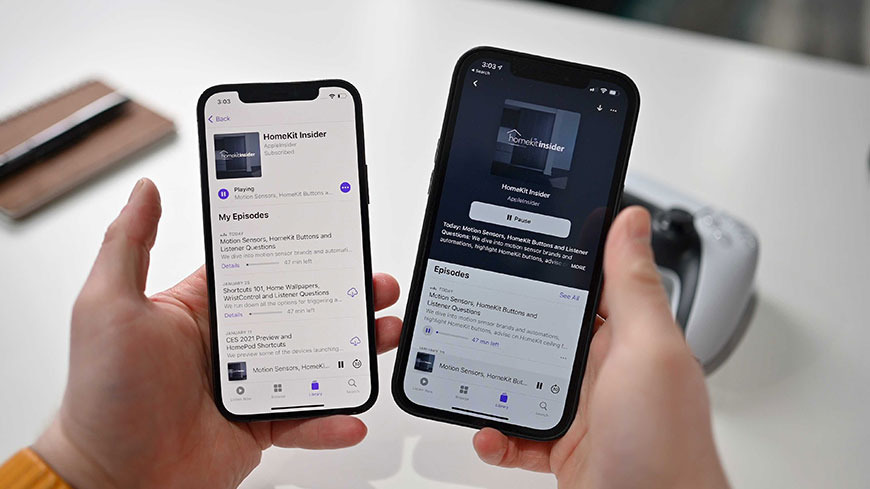 Teach Siri your music app in iOS 14.5
iOS 14.5 won't let you to set a default app for music playback services but you can teach Siri your preferred apps according to your interest and wish .
When you tell Siri to play a song without specifying an app, you'll be prompted with a list of possible apps, simply tap on the one you want to use. Otherwise, Siri may able to learn your prefer to  point it to your needs , but this may take a final version of iOS 14.5 to work  full.
Supports Dual 5G Sim in iOS 14.5
Dual-SIM iPhone users can use 5G globally on iOS 14.5 with the iPhone 12 series. Dual-SIM means that you can have two separate lines of service on one device.
This is great for people who keep their work and personal lines separate and also for  international travel. When iOS 14.5 lands, both SIMs will have access to full 5G speeds.
Other iOS 14.5 features
App tracking transparency
Maps crowd sourcing
Maps crowd data
New voices for Siri
Battery health calibration

Find My app