Android 12 Update's
Google is improving latest features of Android to grow media handling , notification's, privacy, feedback and more other UI features. The search engine google is always up for update to latest versions of Android to be able handful for usage to your easy uses.
Android 12 features are Easier Wi-Fi sharing, more screenshot markup options, wallpaper based theming system, AVIF images support, compatible media transcoding, Haptic coupled audio effects, Enhanced cookie handling, Rich content insertion, notification improvements, Face based auto rotate, App hibernation etc.
latest features of android which are very much useful for you people to do your work in very simple ways so, that you can save your time and complete work fast in quick time.
Android 12 Features
Wi-Fi sharing
In Android 11 if you want to share your Wi-Fi connection with other people, you have to create a QR code to scan and now Android 12 avoids the creating a QR code for sharing wi-fi you can just hit "Near by" button on your QR code below so, that can use android near by share feature to transmit wi-fi sharing to other's you like.
QR code scanning is easy but this new feature allows you to connect with multiple people without handing your phone to everyone to scan and it is convenient for you.
screenshot markup
If  you captures a screenshot with a Pixel device, you can easily markup that shot with paintbrush-like tools. With Android 12  you can add text, Emoji, and stickers to your screenshots using the same tool. Isn't a revolutionary change, but it might prevent folks from needing a third-party app to do the same task.
wallpaper based theming
The feature uses the wallpaper's predominant color to set the hue of system elements. For instance, if you apply a wallpaper of orange bokeh, UI elements will adopt a shade of peach. Screenshots suggest that the colors are applied to Android 12's notification shade, settings menus, and lock screen. As below image:
AVIF images support
Android 12 introduces support for AVIF — an image format that promises improved image quality over JPEG without the penalty of larger file sizes.
Notification improvements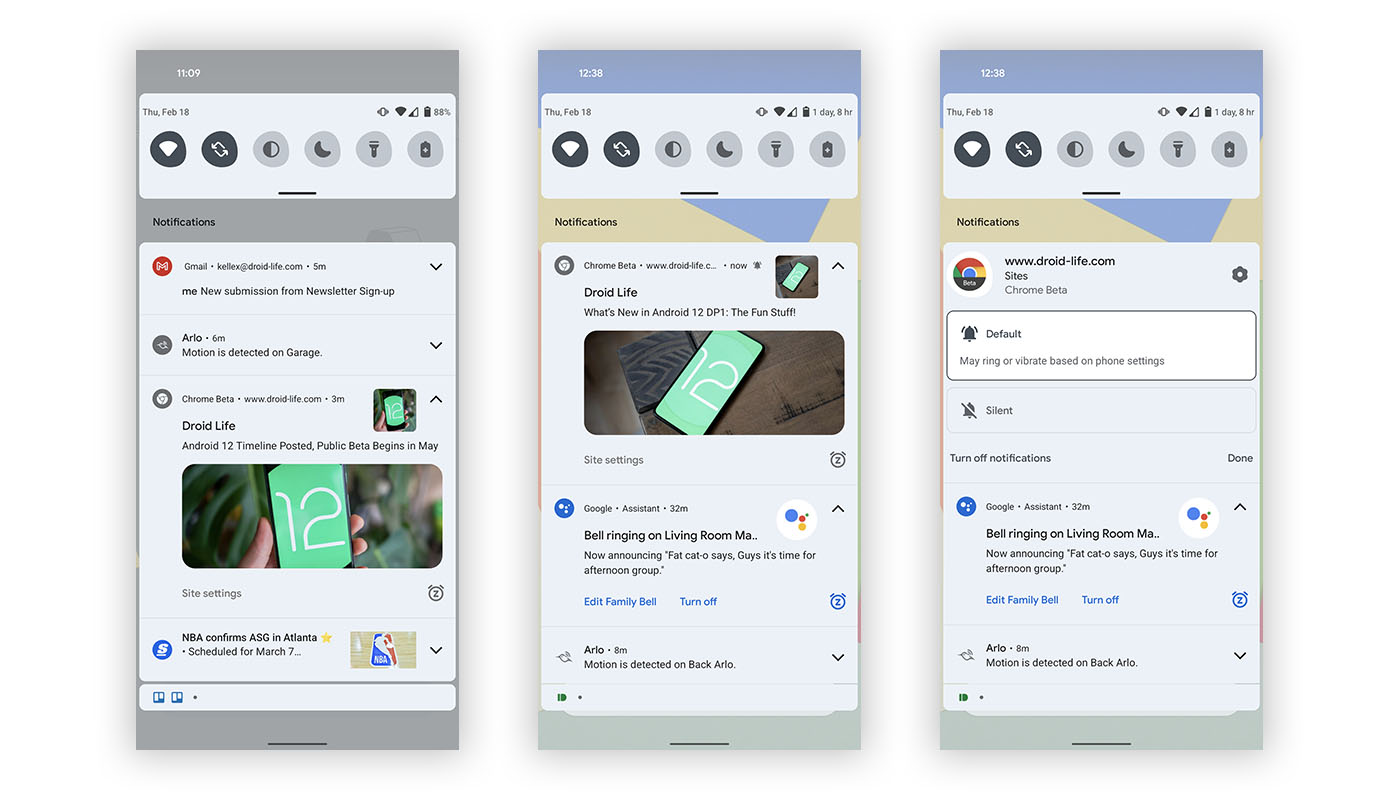 Android 12's notification system is redesigned to improve aesthetics, usability, and functionality. It's prompt developers to ditch "trampolines" —  services — that bounce users from the notification to the app. In Android 12, Google wants notification taps to take users directly to the app itself.
One-handed mode
The feature appeared in the first DP as a hidden item but didn't make its official debut until the second DP. It operates as the one-handed mode does in iOS. First, you have to activate the feature within Android settings, and then you have to swipe down anywhere at the bottom of the display while doing so, brings the top half of the display downwards, allowing you to better reach any buttons, icons, or other features .
New widget organization
In Android 12  when you add a widget to the home screen, you can now see more widget categories at once. This will allow you to easily find the app you want in a widget for use and then add the specific widget. It's a small change, but it will make widgets way easier.
Additional information
Android 12  other important features are
Universal splash screens
Hide the selfie camera on Pixel 5
Slightly redesigned Settings pages
Multi-channel audio
Optimizations to larger display devices etc.